A helmet for space adventuring in style. This is an original helmet, non-commissioned piece currently on sale via the auction page.
Since the Garuda Workshop website went live we've been busy creating new helmets. It's been a bit of a brutal learning curve especially when it comes to paints. Trying to find paints that play nicely with the helmets and lacquer as well as standing up to being masked off in a reasonable time has been a painful adventure!
Here are our latest creations!
Hakupamf
A stylised panther helmet incorporating the signature triangular spots. The helmet has EL wire on the forehead and ears which is great when used when DJing!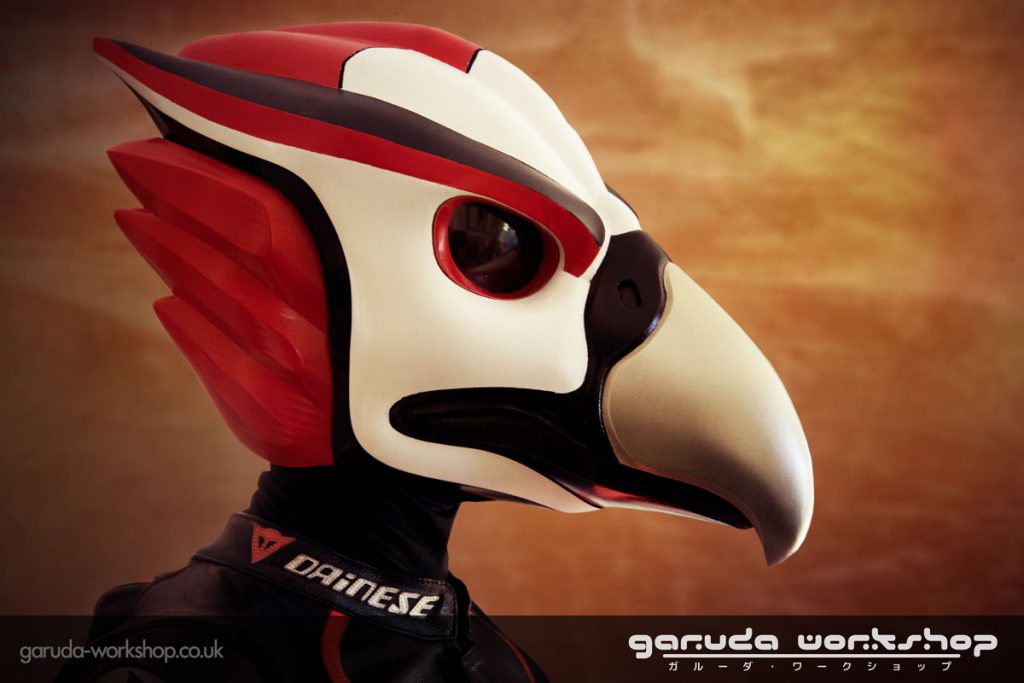 We're proud to show off our first helmet taken from a 3D design we created and brought all the way to finished wearable gear.
The helmet was made and broken down for printing using Blender 3D. Simplify 3D was then used to slice the parts and produce the gcode files necessary.
After printing each part was smoothed, joined together, smoothed, filled and smoothed some more. After priming the helmet was painted a base white and then masked and painted for each of the 3 colours, red, black and nickel.
Finally padding was added inside as well as fixings to keep the front and back half together.
It was a long process to work out how to design for real life products and the steps to manufacture these unique items but we're glad to be able to offer commissions. Please contact us to find out about getting your own custom item created.